Pondus is a Norwegian comic by Frode Øverli. It is usually drawn as single strips, and is published in more than 130 newspapers and periodicals, it has its own magazine, and is also printed as booklets and albums, where longer stories can be found.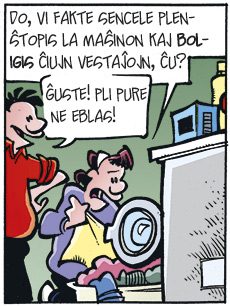 The character of Pondus was born in 1995 in the comic A-laget, which focused on three football supporters. But since October 1995 the comic has been called Pondus, and the main character Pondus and his buddy Raymond have broadened their horizons with work, family, friends, neighbours, beer and women. But football still plays an important role in the strips.
Pondus has been translated to several languages, for instance Swedish, Danish, Saami languages, French, English, Latin and Esperanto.
The youth pages Inter ni dirite of Norwegian Esperanto League's members' magazine have published comic strips in Esperanto since 2009. Now finally the album is here.
The new album contains strips orignially published in Norwegian in the period from 1998 to 2005.
A short presentation of the main characters (as of the time period in the album):
Pondus (real name: Patrick)
Pondus is a living football encyclopedia. His favourite team is Liverpool. He plays football at old-boys level together with hus buddy Raymond. Pondus is a bus driver and is married to Linda (Norwegian: Beate). They have two children: Junior (Kevin) and Rugrat (Frida).
Linda (Norwegian and Esperanto: Beate)
Pondus' wife. Works as a nurse, and is constantly exposed to the trials of living with a football fanatic, a teenage son and a one year old baby.
Junior (real name: Kevin)
Their son. He is now in that particular age when girls, in short glimpses, may be more fascinating than football.
Rugrat (real name: Frida)
Observes the world in her own perspective, diagonally from below.
Raymond (Norwegian: Jokke, short for Joacim)
Best buddy of Pondus. Leeds supporter, and keeper of the old-boys team where Pondus also plays. Perhaps one of the worst casanovas in the history of man. He fantasizes about Tammy-Sue (Norwegian: Turid-Laila) at the pub, but usually ends up with something completely different…
Elsa
Raumond's mom. An iron lady with a dubious wardrobe. Bathrobe and slippers are used everywhere.
Günther
Elsa's husband, Raymond's stepfather. German dwarf with an affinity for high heels and babydoll. Preferably on himself.
Kjakan (real name: Kjell-Kristian)
Best buddy of Junior. He's a hopeless romantic and struggles with huge acne problems and extreme short-sightedness.
You can read more about Pondus on the Wikipedia.